Caring, Death and Loss at a Distance
An Online Course
Healing practices for when you can't be physically together.
Powerful ritual tools for before, during, and after the last breath.
My name is Sarah Kerr and, in this class, I'll share with you some simple, but really powerful ritual practices for caring and healing at a distance. These are practices I use with my clients and it helps them find support and connection, even when they can't be physically
present with each other.
If we're fortunate enough that a death isn't sudden, there are rituals we can use when we can't be physically present with our loved one, or when we can no longer use technology to communicate with them. And no matter how someone dies, there are rituals we can use in that tender period immediately after a death, where we might've been able to spend time in vigil with their body.
Then there are rituals we can use to create meaningful funerals and grieving ceremonies when our communities can't gather in person. These rituals support the living, the dying and the dead, and they help us all to adjust to the new kind of reality that death brings.
So if you're facing an upcoming death in your world, or if you're an end-of-life practitioner who supports dying people and their families through death and loss, then there are tools in this class that will really add some valuable resources to your toolkits.
I hope it's helpful for you, for your friends and family and for those you serve.
Learn simple energy medicine techniques for supporting dying and grieving people.
$149 CAD / ~ $110 USD
It's heartbreaking when someone you love is dying and you can't be at their bedside.
Perhaps you're not able to visit and care for your dying person.
Maybe you can't gather to grieve with your friends and family.
You still want to support the people you love, and address your own grief.
Without tools for working at a distance, it's hard to know what to do.
There are many reasons that can keep us physically apart, but we're more than physical beings. We're also spiritual beings.
When we can't connect physically, we can connect spiritually and energetically, through ritual.
Rituals, like prayers, offerings, and other 'acts of consciousness' are tools for focusing and directing energy on behalf of a healing intention. Their power isn't measured by what we perceive with the 5 physical senses, but in the depth of focus and feeling we bring to them, and by the sincerity of our relationships with the healing powers.
In the time just before and after a death, the veil between the worlds thins. The bonds that hold the physical world together loosen slightly, as the spiritual world reaches across to collect and welcome the dying person. Spiritual healing interventions, which don't depend on physical interaction, can support this process.
Dying people are in the process of leaving their bodies, and so their consciousness is more attuned to the subtle realms. Spiritual and distance healing practices operate at those subtle frequencies and they offer a powerful but gentle support.
Learn distance healing techniques to care for your loved one, before and after they die.
Learn how the body and soul release each other at death, and how you can gently support that process, even from a distance.
Discover a set of simple but powerful ritual practices to support your loved one as, and after they die.
Explore energy medicine practices to support each stage of the soul's journey.
Find the confidence to apply these techniques when they're needed.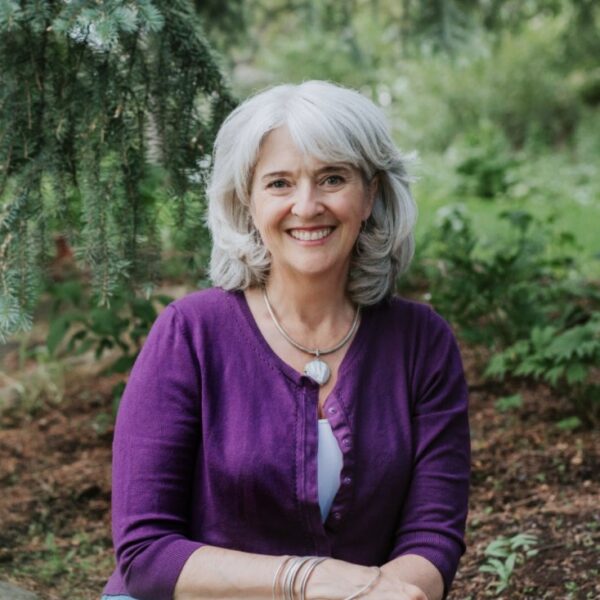 ABOUT YOUR INSTRUCTOR
Sarah Kerr PhD
I've been a ritual healing practitioner, death doula, and trainer since 2012. I have a doctorate in Transformative Learning and I've been a student of spiritual and systemic healing practices for almost three decades.
My clients and students understand that death and loss are important parts of their spiritual journey, but they don't have a spiritual map to guide them through these experiences. I bring a map rooted in energy medicine, systems thinking, sacred sciences and ancient wisdom traditions.
I train death doulas and other end-of-life professionals in a comprehensive healing methodology that aligns with deep patterns in the archetypal structure of the dying process.
I'm honoured to share what I've learned from my teachers, clients, and direct experience. I hope this course is helpful to you as you deepen your soul-centric deathcare skills.
How it Works
This class includes 2.5 hrs of pre-recorded teaching and Q&A.
All material is available as closed caption videos
As there are no assignments or evaluation, this is not a certification program. Participants will receive a Certificate of Completion, suitable for submission for CE's or CEU's (licensure dependent.)
Student Reviews
Your passion made me feel passionate, too
I like that you delivered your teaching with passion. Your passion and your love for what you do made me feel passionate too, and gave me a drive to want to do this work in the world. I want to help carry that passion forward.
Complex things become simple and clear
Sarah makes complex things simple and clear; her excellent teaching style made it all really useful and interesting. I learned about so many ways that you could be helpful for people who are dying and their families, and I really got a lot out of the course.
Sarah's passion comes through in her teaching
Sarah is a very passionate person and it comes through in her teaching. When you can see the instructor truly loves what they're doing it's so much easier to gather the information from it.
It's amazing to learn from you
What I love about you as a teacher, Sarah, is that you're completely without ego; you're confident but very humble. I can just see with your clients, that you really meet them, that you're the nexus point for sharing information with them.
It's amazing for me just to see how you communicate, and to learn from you, I've taken away a lot. Many thanks.
A powerful, transformative experience
Sarah thinks in ritual; it's just the way her mind works. She can make the weaving. She takes elements that people feel and express, and she brings them together and makes this artifact which becomes the ritual, and it's a powerful, transformative experience.
A fundamental teacher for me
Thanks, Sarah. You have been and continue to be a fundamental teacher to me through your work and sharing. Thank you from the bottom of my heart.
Broaden your knowledge | Deepen your skills | Grow your confidence
Register Now