Learn to meet death in ways that are more healing, more holy, and more whole.
Sacred Deathcare Programs
Help people deepen their relationships with each other and with the innate wisdom of the dying process.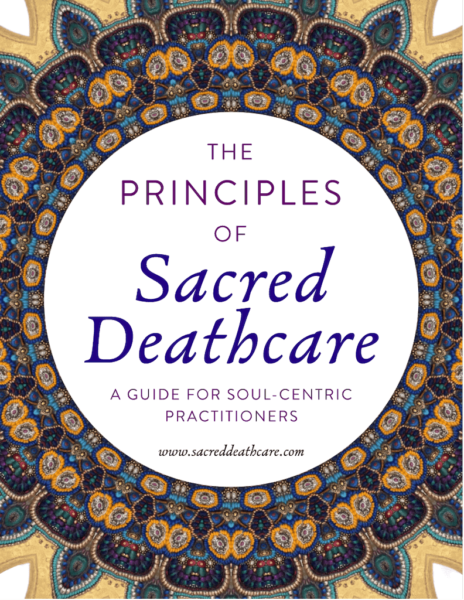 The Principles of Sacred Deathcare
A guide for soul-centric practitioners
Sacred deathcare is a healing approach that honours the larger spiritual aspects of death and bereavement.
When you learn to align with the innate wisdom of the dying process, you can cooperate with the larger spiritual forces that shape this experience.
From there, you can use ritual healing, energy medicine, and other soul-supporting modalities to offer the deep support that dying and grieving people need.
Awakening the Archetype of the Deathwalker
Activate the wisdom of your soul's calling
For those curious about sacred deathcare, this short self-study course is the place to start.
If you're called to offer support for death and loss, it's likely that the deathwalker archetype is active in you, but you may not know how to identify or develop it.
Discover what that deathwalker energy is and how to tell if it's manifesting through you.
Learn how to deepen this innate healing capacity, and take your place in a lineage of soul-workers and ritual healers.
Understanding the spiritual geography of death and loss
This three-module video program offers easily applicable tools for those wishing to support dying people and their families.
Each module provides a comprehensive map for a different stage in the journey of death and bereavement:
Crossing the Veil: A ritual map of death and bereavement
What Happens After We Die? A down-to-earth map of life, death, and beyond
Grief and Loss as Initiation: An archetypal map of loss and transformation
This course helps you to find the language and logic to articulate what you intuitively know about death, dying, and dead people. From there, you can help people meet mortality with grace and confidence.
Doing Death Better: A library of practical skills for a soul-centric goodbye
Through a combination of live teaching and recorded lessons, this sequence of classes teaches you pragmatic and soul-centric approaches for meeting each stage in the dying process.
The series begins with the pivotal moment you become aware that death is coming, and continues through sacred deathbed vigilling and holding a meaningful funeral, to healthy grieving and, finally, staying spiritually connected across the veil.
Discover a balanced blend of practical and spiritual techniques for supporting your family, friends and clients.
Our programs blend comprehensive theory with heartfelt practice, all rooted in the wisdom and healing power of community.